Welcome to www.starters.co.nz 
starters.co.nz is a web-based subscription resource for schools featuring over 3000 quality pdf, ready-to-use lesson plans including digital resources such as videos and websites that enhance and add depth to the lessons.  

Full access to the lessons library (over 3000 lessons) of starters is by a yearly subscription. When your school subscribes, all teachers at your school have immediate access for 1 year.
Visit our subscriptions page and follow the simple steps.

Subscriptions for individual teachers are now available online at $25.00 (plus gst ) per year
Visit our subscriptions page and select this option when asked. 

GO RED – Join Charlie's Challenge
Save the Children New Zealand invite schools to go RED during November as part of an event called Charlie's Challenge and help with world's most vulnerable children in countries like Indonesia, Bangladesh or Nepal.
In 2017 every hour the equivalent of 32 classrooms of children were forced to flee their homes. Whether you're five or 15 being forced to leave your home no matter the reason – conflict or natural disaster, your life is changed.
We need funds to help provide food, shelter and protection, and education so children who have lost everything have the chance for a brighter future. 
With Charlie's Challenge we're asking people to create their own fundraising events or activities within three categories – eat RED, run RED or wear RED.
For example, students could have a red based shared morning tea and donate a coin or two, run a race in red and ask people to sponsor them, or challenge other students to dye their hair red for the week and hold a collection for Charlie's Challenge. We want people to have fun while raising funds for vital work to help children in need.
 Events can be run anytime from now until 27 November and anywhere in the country. People can set their own goals and fundraising amount.


 
TAKAHE AWARENESS MONTH – ALL OF NOVEMBER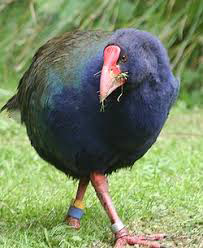 From an era when large flightless birds were spread throughout New Zealand, the takahē has clung to existence despite the pressures of hunting, habitat destruction and introduced predators.
The takahē was once thought to be extinct, but in the 1948 it hit world headlines when an Invercargill doctor, Geoffrey Orbell, rediscovered the bird high in the tussock grasslands of the remote Murchison Mountains, Fiordland.
MAKE THE TAKAHE A CROSS-CURRICULAR FOCUS FOR NOVEMBER – CHECK OUT THE LINKS TO EXTENSIVE TAKAHE RESOURCES INCLUDING LESSONS AND VIDEOS ON BULLETIN BOARD
starters&strategies Term Three 2018 Now Online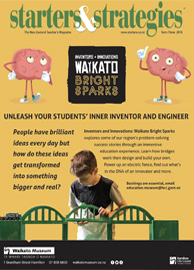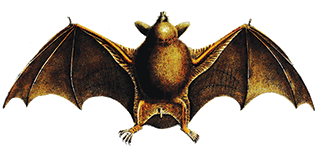 DISCOVERING PEKAPEKA – NEW ZEALAND'S NATIVE BATS
A major unit about our ONLY native land mammals. Full details and links on Bulletin Board.

Safe Boating is a School Programme for 8-12 year olds.
Visit Bulletin Board for further information and website and
email links to 
this exciting schools' programme

Visit Bulletin Board for more information and a link to download this exciting new resource.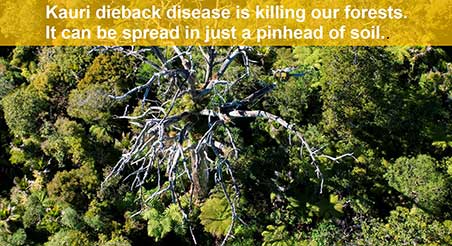 Find out about Kauri Dieback Disease. Download pdf at:
http://www.starters.co.nz/download/get/kaurirescue/64.html
Education Kauri Dieback Cross-curriculum resources at:
https://www.kauridieback.co.nz/media/1461/education-resources.pdf
It's easy to make Environmental Sustainability a major cross-curricular classroom theme in 2018 using our 2018 Sustainability Calendar. 
Education for sustainability is all about challenging and engaging students of all ages to think and act in ways that show respect for and safeguard our precious environment.
The Sustainability Calendar provides web links to events and themes celebrated throughout the year with ideas for teachers to celebrate these events including …
videos, information/websites for student and teacher research, pre-prepared lesson plans, student activities, images and ideas and suggestions for taking class and community action for the sustainability of our environment. 
Click the link below to download the pdf.
Download the Sustainability Calendar  and/or
Visit Bulletin Board for Dates, Topics & Links to videos, websites and lessons