starters&strategies – the New Zealand Teacher's Magazine (now in its 30th year) is distributed to 28,000 (ABC Audited) teachers of students aged 5-14 years  once per school term. Below we feature publications going back one full year which can be printed out FREE from the E book format. starters&strategies contains major ready-to-use units of work in all curriculum areas; information on the latest resources for schools; EOTC destinations and experiences for students; an annual 'Web Supersites' feature; Environmental Education features.
TERM TWO 2021 STARTERS & STRATEGIES MAGAZINE NOW ONLINE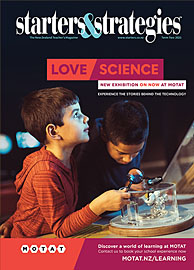 HIGHLIGHTS INCLUDE
INVESTIGATING ELECTRICITY 
A major cross-curricula unit for Years 5-10+ incorporating links to Science, Technology, Social Sciences and Environmental Science with a particular focus on the benefits of producing renewable energy generated by hydro-power
BIOSECURITY WEEK – 28 July – 1 August
Teaching Unit for Yrs 5-10+. Students discover why biosecurity is so important. Students research the threats caused by pest plants, insects, animals and diseases and measures we can take to stop these threats. The unit concludes by looking at the very successful DOC 1080 project, students exploring their local green spaces and getting involved in local district pest control programmes.
CONSERVATION WEEK 4–12 September
All the resources and ideas you will need for a successful Conservation Week.
UNDERSTANDING AND EXPLORING OUR NEW ZEALAND WEATHER
Science and English-based unit including a detailed study of the vocabulary of weather.
EXPLORING THE WONDERFUL WORLD OF PRINTING
Visual Arts ideas for all age groups.
DIGITAL RESOURCES FEATURE
Links to Websites, Outdoor Classrooms, New Resouces and Exciting Programmes
… and many more starters & strategies
Scroll Down to View the Magazine Select Term Two 2021