starters&strategies – the New Zealand Teacher's Magazine (now in its 30th year) is distributed to 28,000 (ABC Audited) teachers of students aged 5-14 years  once per school term. Below we feature publications going back one full year which can be printed out FREE from the E book format. starters&strategies contains major ready-to-use units of work in all curriculum areas; information on the latest resources for schools; EOTC destinations and experiences for students; an annual 'Web Supersites' feature; Environmental Education features.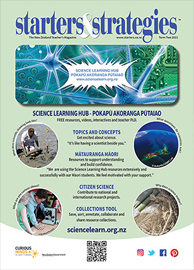 HIGHLIGHTS INCLUDE
Celebrating Biosecurity Week 25-29 July
Major Multi-Level Cross Curricula unit where students focus on the steps we all must take to protect our biodiversity from the pests and invasive species which threaten it including: horticultural pests; why trees and plants are so important; weeds in our green spaces; unwanted diseases etc.The unit concludes with students identifying biosecurity threats in their local community and taking positive actions to rid or contain any threat and/or prevent it becoming established.
Wildings – The Wrong Tree in the Wrong Place
Students focus on the problems caused by introduced Wilding Pines, where they are found, how we can prevent their spread and actions we must all take to spread the word and remove them on a regular basis. 
Vote 2022 Local Government Elections.
Students are introduced to the concept of representative democracy and discover the difference between central government and local government. Students then focus on reasons why voting in local government is equally as important as central government and the steps we must take to encourage voting this year, including discovering what each local candidate plans to achieve. The unit concludes with students holding a 'mock' election at school and comparing their results with their local district result.
Bright Ideas
      Multi-Level Bright Ideas across the curriculum in Arts, Health, English, Social Sciences and Maths.
Conservation Week 5-11 September
       Students will discover why learning outside the classroom is fun and curriculum enriching. Activities include learning in nature, exploring local nature resources, the importance of conservation week, virtual field trips and becoming involved in a citizen science project.
Digital Resources
6 pages of the latest digital resources available to teachers including Te Reo Singalong Books, Lets Get Brainy (science), NZ on Screen, Family Planning Sexuality programme, RNZB Ballet, NZ Blood …
… and many more starters & strategies
Scroll Down to View the Magazine and Select Term Two 2022