starters&strategies – the New Zealand Teacher's Magazine (now in its 32nd year) is distributed to 27,000 teachers of students aged 5-14 years, once per school term. Below we feature publications going back one full year which can be printed out FREE from the E book format. starters&strategies contains major ready-to-use units of work in all curriculum areas; information on the latest resources for schools; EOTC destinations and experiences for students; an annual 'Web Supersites' feature; Environmental Education features.
Scroll down to select the magazine you require!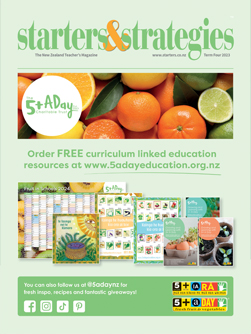 HIGHLIGHTS OF THE DECEMBER 2024 TEACHER'S MAGAZINE
AHIKURA - Delivered by Fire & Emergency New Zealand
Ahikura is a free programme and is aimed at young people who are 'overly curious' about fire and/or have previously displayed risky fire behavious. Full details and contacts supplied.
WATER IS A PRECIOUS TAONGA
A major cross-curricular Water Conservation teaching unit best suited to Yrs 5-10. The unit is designed to ensure that students and whanau become aware of the importance of water in our everyday lives and take appropriate and regular actions to preserve it and use it wisely. 
RESOURCE KETE TACHING IDEAS INCLUDE:
Growing Language Teaching Skills, Science the Fun Way, Health Programme for calmer classrooms, NZ Onscreen, Audioculture and Sneeze Safe..
SUSTAINABILITY CALENDAR FOR 2024
Our very popular Sustainability Calendar is designed to highlight the many wonderful environmental events and annual celebrations that take place over a year both in Aotearoa and around the world.
SEAWEEK
Seaweek 2024 is celebrated 2-10 March, 2024. The theme for Seaweek is 'Celebrating Connectivity With Our Seas'.
FINANCIAL LITERACY
Most suitable nfor Years 4-10. Why was money invented? What are goods and services? Creating a classroom trading society. How did money affect and change our 'trading society'?
MAKING & USING PAPER
A Technology-based unit designed for Years 1-4 including recycling used paper and exciting projects for using pare in many different ways in the classroom.
 EDUCATION OUTSIDE THE CLASSROOM
 A major feature for teachers to discover the exciting, amazingly different and unique EOTC experiences for your class, both Nationally and for many further areas