starters&strategies – the New Zealand Teacher's Magazine (now in its 30th year) is distributed to 28,000 (ABC Audited) teachers of students aged 5-14 years  once per school term. Below we feature publications going back one full year which can be printed out FREE from the E book format. starters&strategies contains major ready-to-use units of work in all curriculum areas; information on the latest resources for schools; EOTC destinations and experiences for students; an annual 'Web Supersites' feature; Environmental Education features.
TERM FOUR 2021 STARTERS & STRATEGIES MAGAZINE NOW ONLINE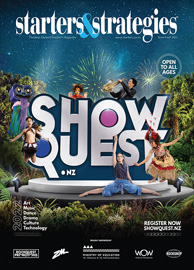 HIGHLIGHTS INCLUDE
SEAWEEK 2022
A 4 page major teaching teaching unit for Seaweek 2022. Seaweek Topic for 2022 is 'Celebrating Our Connection With the Sea. Seaweek 2022 is when we also celebrate 30 years of Seaweek making it a very major event in 2022
3 Additional Pages of Seaweek Teaching Ideas
Sustainability Calendar for 2022
Education for Suatainability featuring dates and live links for students to learn about the important interactions between human acrivities and the total environment.
Bottles, Lids and Containers
A 'fun' technology-based teaching unit for Years 1-4 where students explore the many types of and uses for containers, lids and bottles.
Food Safety
A major multi-level teaching unit where stuydents learn about the importance of keeping food safe for eating using the 3Cs – what we do prior to cooking, when we cook and when we eat and serve our food.
Resource Kete & EOTC 
Including NZ OnScreen, Audio Culture, Sexuality Education, Zelandia, Discovery Garden, What's the Plan Stan, 'tuturu (consulting with your school community about health education) and Free Teaching Resources from the SPCA. 
When is a Bird not a Bird? When it is a Bat!
Science/Englis-based cross curriculum teaching unit for years 5-10+ promoting saving our Pekapeka – the New Zealand native bats.
… and many more starters & strategies
Scroll Down to View the Magazine Select Term Four 2021