starters&strategies – the New Zealand Teacher's Magazine (now in its 30th year) is distributed to 28,000 (ABC Audited) teachers of students aged 5-14 years  once per school term. Below we feature publications going back one full year which can be printed out FREE from the E book format. starters&strategies contains major ready-to-use units of work in all curriculum areas; information on the latest resources for schools; EOTC destinations and experiences for students; an annual 'Web Supersites' feature; Environmental Education features.
TERM ONE 2022 STARTERS & STRATEGIES MAGAZINE NOW ONLINE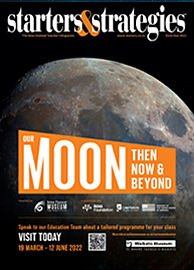 HIGHLIGHTS INCLUDE
CONTRUCTING MOBILES AND STABILES
 Constructing mobiles and stabiles is a very rewarding visual art activity for students of all ages. They are imaginatively stimulating and add colour and interest to your classroom and school environment. A mobile is a free hanging creation while a stabile is fixed to a base and can be easily shifted around the room or school or even taken outside to the playground to become an outdoor sculpture. Multi-level.
THE WONDER OF HEARING & HOW TO PROTECT IT
A major teaching unit for Yrs 4-10 where students focus on the 'most important' and precious sense of hearing including: How the Ears Work; How We Measure Sound, Dangers to Our Ears and the Dangers of Loud Music; Differences Between Sound & Noise and Actions We Can Take to Protect Our Hearing. 
BRIGHT IDEAS FOR YEARS 1-4 PLUS
Fun cross-curriculum Bright Ideas for younger students including: Observational and Discrimination Skills, Using our Senses other than Sight; Oral Language Challenges; Things that are Useless, Chanting Place Names and a Trip to the Native Bush.
CLEANING UP OUR WORLD AND KEEPING IT THAT WAY
       Social Sciences, Science, Environmental and English Activities for Yrs 4-8+
With over 60% of the World's population expected to live in urban areas by 2030, it's time we all took actions to improve and protect our environment. Students often feel helpless to do anything about it but by taking simple actions on a regular basis, they really can 'Clean Up Our World' and get important messages ut to their local community – both in urban and rural areas.
LEARNING BY PLAYING GAMES
       A fun multi-level teaching unit explaining how we can and what we can learn by playing games.
PLUS
…  all the  latest teaching resources and ideas
… and many more starters & strategies
Scroll Down to View the Magazine and Select Term One 2022