starters&strategies – the New Zealand Teacher's Magazine (now in its 27th year) is distributed to 28,000 (ABC Audited) teachers of students aged 5-14 years  once per school term. Below we feature publications going back one full year which can be printed out FREE from the E book format. starters&strategies contains major ready-to-use units of work in all curriculum areas; information on the latest resources for schools; EOTC destinations and experiences for students; an annual 'Web Supersites' feature; Environmental Education features.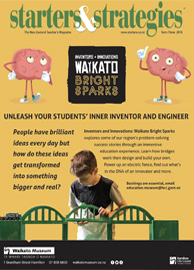 Highlights of Term Term Three 2018 Magazine Include:
Major 4 Page New Zealand ShakeOut Unit and ShakeOut Challenge
 All of New Zealand is at risk of earthquakes and all of our coastline is at risk of tsunamis. We cant predict when they will happen, but we can protect ourselves and pracxtise the right actions to take.
We also know that when our students are involved in preparing for and learning about natural hazards, they can play a major part in preparing for and teaching adults in responding to and preparing for emergencies.
Don't Miss the New Zealand ShakeOut Schools Challenge! The 'Challenge' runs from 18 October – 31 October and empowers students to be the teachers and show their community how to be prepared. When you register your school for the New Zealand Schools ShakeOut Challenge you will receive a resource for each student to take home and work through with their family. Everyone who completres the challenge will also get a prize. 
Entries Close 21 September So Register Your School Today at: www.shakeout.govt.nz
Other Highlights Include:
No Matter What Food We Eat – Food Safety Matter
Recently, students and teachers from Kahukuranui at Tolaga Bay Area School, along with scientists from Groundtruth, Food Safety Science & Research Centre, Plant and Food Research and members of the Te Aitanga-a-Hauiti iwi all sat down together to a wonderful meal of locally sourced wild food. The menu was set by the students after research and interviews with their pakeke (elders). Find out about how to search safely for wild food and learn about safe food preparation. Science, Social Sciences & Health-based.
Health & Physical Education Teaching Resources
A three page feature highlighting exceptional resources for teachers and students relating to the Health and Physical Education Curriculum. Resources include: SunSmart; Water Skills; Sexuality Education for Yers 1-2; Kids Athletics; Health and Safety,; Oral Care; Mental Health and Blood.
Education Outside the Classroom 
A major features highlighting exciting education programmes and visits promoting EOTC throughout the country, grouped by geographic regions and EOTC experiences available nationally.
USING THE FLIP-BOOK: Wait until flip-book loads. Click anywhere on the page to zoom in. Click anywhere on the page to zoom out. All web/video links are live. Click on link.
Magazines can be viewed on computers, tablets and mobile phones