starters&strategies – the New Zealand Teacher's Magazine (now in its 30th year) is distributed to 28,000 (ABC Audited) teachers of students aged 5-14 years  once per school term. Below we feature publications going back one full year which can be printed out FREE from the E book format. starters&strategies contains major ready-to-use units of work in all curriculum areas; information on the latest resources for schools; EOTC destinations and experiences for students; an annual 'Web Supersites' feature; Environmental Education features.
TERM THREE 2021 STARTERS & STRATEGIES MAGAZINE NOW ONLINE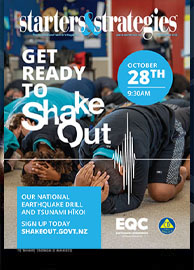 HIGHLIGHTS INCLUDE
4 PAGE MAJOR UNIT ON ETHNIC DIVERSITY
Use this cross-curricular teaching unit to promote, share and celebrate the benefits that ethnic and cultural diversity brings to our communities and that how by doing this, we also eliminate  bullying.
CELEBRATING THE ROLE THAT ANIMALS PLAY IN OUR LIVES
An English-based teaching unit best suited to years 4-9 that celebrates the role that animals play in our everyday lives and learning that the everyday needs of humans and animals are very similar. 
SHAKEOUT – 28 OCTOBER
Hazards – earthquake and tsunami. Use the following cross curricula ideas and resources to learn about and prepare for earthquakes and associated tsunami and activities to prepare for and run 'SHAKEOUT' on 28 October.
 JUMP ROPE JUNIOR/MIDDLE SCHOOL CHALLENGE
Adapted from the BP Challenges – a fun unit where students are challenged to create a skipping rope from everyday materials and then put it 'into action'.
SPORT NEW ZEALAND RESOURCE
If you are passionate about improving the wellbeing of our tamariki – then this new resource is for you!
MOVEWELL – NEW RESOURCE
Discover the new "Free" and online resource from Physical Education New Zealand that supports learning and enjoyment of movement plus the supporting teacher workshops.
LEARNING OUTSIDE THE CLASSROOM FEATURE
Links to Websites, Outdoor Classrooms, New Resouces and Exciting Programmes Nationally, Auckland, Central NZ, Wellington and Christchurch
… and many more starters & strategies
Scroll Down to View the Magazine Select Term Three 2021